Sports & Running Injuries
---
Playing sports is one of the best things that you can do for your physical and mental health. Not only do they spark a competitive spirit, but they make regular exercise a little more exciting in all the best ways. Of course, they do come with a few downsides too, with injuries topping the list. If you're experiencing a sports injury in Corning, New York, Choice Physical Therapy is here to help you get the services and advice you need to get back out there.
We Treat All Injuries
Sports injuries are sometimes sudden and unexpected, the result of a severe twist or pull of a muscle or a sharp break in a bone. However, more often than not, they're the result of constant repetition. A sports physical therapist is there to work with the injured part of the body so it can heal faster.
They're also there to give patients more context about the source of their pain and how it's affecting all of the other parts of the body. This more comprehensive overview is one of the best ways to stave off injury in the future, which is music to any athlete's ears.
Running Injury Speciality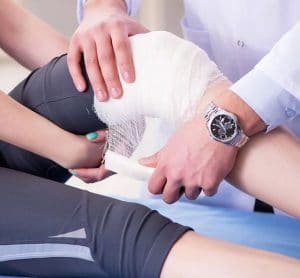 Running is one of the most freeing activities you can do. Not only can you do it nearly anywhere you are, but you don't need a partner to get in your miles. However, with as many benefits as running can bring, it's also one that can really test your body's limits.
All the compression on your lower extremities, including hips, knees, and ankles, can ultimately result in sprains, bursitis, or meniscal injuries. If you're experiencing a running injury in Corning, NY, the experts at Choice Physical Therapy can give you more than rest, ice, compression, and elevation ever could.
Customized Treatment Plans
While sports injuries are normal, they also can't be fixed with a one-size-fits-all methodology. We're here to help you find exercises, stretches, and tactics that address the root cause of the issue and strengthen the body so it can handle the strain it undergoes when you play sports. Customized treatment plans can be used for anything from major accidents to ongoing discomfort.
For instance, let's say you happen to experience frequent ankle pain. However, because it's relatively minor and goes away after a day or two of rest, you don't think much of it. While the inconvenience may seem small though, it's important not to miss the warning signs of your body. Getting physical therapy now for it might be the best way to avoid a much more destabilizing injury in the future.
Physical Therapy in Corning, NY
There's a tendency for people with sports injuries to give up what they love, but this is far from the best solution. Choice Physical Therapy has a staff who understands what sports mean to their patients, which is what makes them so effective at treating different types of injuries. Whether you love to play basketball or prefer to be testing your skills on a steep slope, we're here to give your body what it needs so it can stay in the game. When you work with us, you're making a decision that your body will literally thank you for.